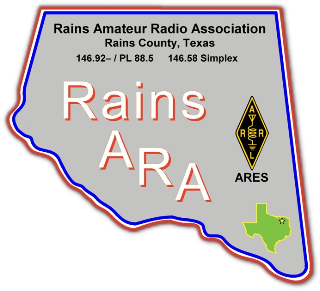 W5ENT.org
Current events
The complete list of events, past and present, is on the
Events page
.
9:00am March 11, 2023 is our next Meeting will be at the Emory Fire Station
1205 West E Lennon Dr, Emory, Tx 75440
Breakfast before the meeting at the American Legion hall 215 Duffy street @7:30
TESTING WILL BE HELD AFTER THE MEETING AT 10:00am
Everyone Stay Safe! Rains ARA meets on the 2nd Saturday of each month.
When: 09:00 (9am)
Where: Emory Fire Station 1205 West E Lennon Dr, Emory,Tx 75440 more information on meetings Rains ARA repeaters 2m: 146.92- PL 88.5
440cm: 443.625+ PL 151.4 Nets
The combined Rains ARA / Hopkins ARC information net happens each Monday.
When: Mondays at 19:30hrs / 7:30pm
Where: W5ENT repeater 146.92- PL 88.5
or 146.58 Simplex
Rains ARA's 10-Meter Net Will Resume in the fall when the time changes back
When: Wednesday's at 20:00hrs / 8:00pm
where: 28.425 USB
Volunteer Exam (VE) sessions
VE Sessions are conducted at the Fire Department in Emory.
more information on VE sessions
Need further information?
Email Rains ARA Rains ARA, W5ENT
Page last edited: March 24, 2022 @ 19:53:30
---