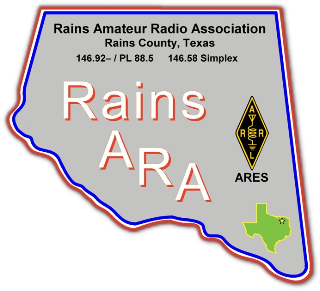 W5ENT.org
Current events
The complete list of events, past and present, is on the
Events page
.
Fri Nov 3, 2017
Planned: Technician class at Greenville hospital Nov. 3-4.
Thu Nov 9, 2017
Due to the next meeting falling on Veterans Day, the meeting will move to Thursday (11/9) at the Circle H BBQ
Club meeting
Rains ARA meets on the 2nd Saturday of each month.
When: 0900 (9am)
Where: Rains EOC, 200 Industrial Blvd, Emory. (under the 200' tower across from the concrete plant)
more information on meetings
Rains ARA repeaters
2m: 146.92- PL 88.5
440cm: 443.625+ PL 151.4
Net
Rains ARA's information net happens each Monday.
When: Mondays at 1930hrs / 7:30pm
Where: W5ENT repeater 146.92- PL 88.5
Backup repeater: 146.80- PL 141.3 (tnx WR5L) or 146.58 Simplex
Since the Hopkins net happens at 1900hrs / 7:00pm on the same night (30 minutes before the Rains net) RARA members can sometimes be found there until their own net begins. HCARC net is on 146.680- PL 151.4.
more information on nets
Volunteer Exam (VE) sessions
VE Sessions are conducted at the EOC in Emory.
more information on VE sessions
Need further information?
Email club president Trent Pergrem, K5VES
Page last edited: Nov 2, 2017 @ 16:43:54
---