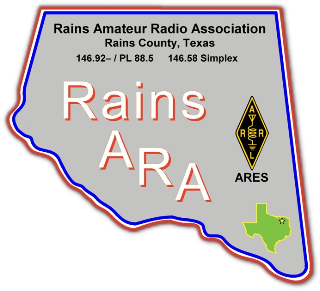 W5ENT.org
Current events
The complete list of events, past and present, is on the
Events page
.
9:00am Augut 8,2020 Meeting will be at the Emory Fire Station
1205 West E Lennon Dr, Emory, Tx 75440
The Meeting will also be on Zoom Chat
TESTING WILL BE HELD BY APPOINTMENT AND LIMITED TO 3 PER TEST SESSION
The 2020 Emory Tailgate Hamfest has been postponed until a later date
Everyone Stay Safe!
Rains ARA meets on the 2nd Saturday of each month.
When: 09:00 (9am)
Where: Rains EOC,
200 Industrial Blvd, Emory
. (under the 200' tower across from the concrete plant)
more information on meetings
Rains ARA repeaters
2m: 146.92- PL 88.5
440cm: 443.625+ PL 151.4
Net
Rains ARA's information net happens each Monday.
When: Mondays at 19:30hrs / 7:30pm
Where: W5ENT repeater 146.92- PL 88.5
or 146.58 Simplex
Volunteer Exam (VE) sessions
VE Sessions are conducted at the Fire Department in Emory.
more information on VE sessions
Need further information?
Email Rains ARA Rains ARA, W5ENT
Page last edited: May 28, 2018 @ 21:23:30
---